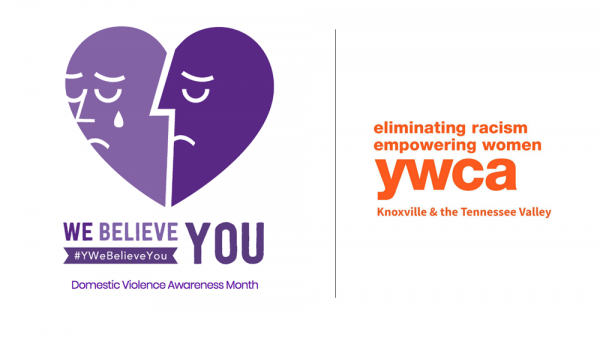 October is YWCA Knoxville and the Tennessee Valley's sixth annual "We Believe You" Domestic Violence Awareness Month campaign. Please join us in saying "We Believe You" to victims of domestic violence.
Paint the Town Purple:
Watch as the YWCA covers downtown Knoxville and Jackson Square in Oak Ridge with purple ribbons the first week in October. Join in and raise awareness in neighborhoods or businesses with the purchase of a purple bow from the YWCA for only $5. All proceeds go directly to the YWCA's life-saving services. Contact the YWCA at 865-523-6126 if you are interested in getting a bow.
Attend an event:
Saturday, October 5; YWCA and the Vols: Come visit the YWCA in Vol Village on October 5 three and a half hours before kick-off, when the Volunteers take on the University of Georgia Bulldogs. It's because of a partnership with First Tennessee Bank that YWCA will be hosting their first Vol Village experience. Vol Village is located in the Humanities Plaza at the University of Tennessee.
Thursday, October 10; Talk & Toast with Ellen Reid: Oak Ridge Grove Theater (123 Randolph Rd) on October 10, Pulitzer Prize-winning composer and native Oak Ridger Ellen Reid joins YWCA for the latest Talk and Toast!  Ellen will share excerpts and discuss her award-winning opera p r i s m, which confronts the difficult topic of sexual and emotional abuse.  Immediately following, YWCA CEO Alizza Punzalan-Randle will moderate a panel discussion with YWCA staff and victim advocates on the topic of domestic violence.  Tickets are available online at ywcaknox.com.
Tuesday, October 15; Candlelight Vigil in Loudon County: Lenoir City Park on October 15 starting at 6:00 p.m. This is a special evening honoring those affected by domestic violence. In partnership with the Lenoir City Mayor's Office and Lenoir City Police Department the YWCA is hosting their first Candlelight Vigil in Loudon County.
Percentage Nights: Check out these local businesses and restaurants throughout October, as they partner with the YWCA by raising awareness and donating a percentage of their proceeds to YWCA domestic violence programs. Follow along the YWCA's social media for updates on the following percentage nights:
POUR Taproom (207 W. Jackson Avenue, Knoxville)

Thursday, October 3 from 4:00 p.m.-8 p.m.

Cruze Farm's Pizza Barn (2723 Asbury Road, Knoxville)

Wednesday, October 16 from 4:00 p.m.-8:00 p.m.

Awod-O-Food food truck

Thursday, October 17 from 11:00 a.m.-1:00 p.m. (1055 Commerce Park, Oak Ridge)
Wednesday, October 23 from 11:00 a.m.-1:00 p.m. (104 Union Valley, Oak Ridge)

Yassin's Falafel House (706 Walnut Street, Knoxville)

Wednesday, October 30 from 4:00 p.m.- 8:00 p.m.
Help us raise awareness on social media by using #YWeBelieveYou when sharing anything related to Domestic Violence Awareness Month-related, and by changing your Facebook and Twitter cover photos to match those of the YWCA Knoxville and the Tennessee Valley for the month of October; @YWCAKnoxville
WHY is this important? According to the National Coalition Against Domestic Violence:
Nationally, 1 in 3 women and 1 in 4 men have been victims of some form of physical violence by an intimate partner in their lifetime.
In Tennessee, 40% of women and 32.5% of men experience physical violence, rape, and/ or stalking by an intimate partner in their lifetimes.
74,023 domestic violence crimes were reported to TN law enforcement in 2014.
For more information, to get involved, or to get help, click here!