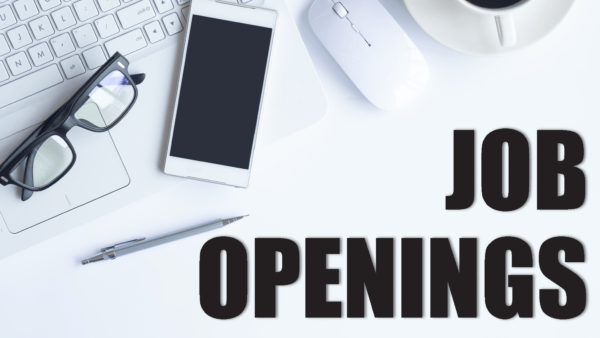 Who's Hiring?
FOOD CITY IS HIRING 2,500 ASSOCIATES 
FIRST LIGHT HOME CARE OF GREATER KNOXVILLE 
Open Listings from station call-ins:
ICC International

Great benefits package
Email Resume, Cover Letter and salary expectations to Careers@iccinternational.com
Visit Website HERE
Koko Japanese Grill

Seeing Kitchen Help
Call 865-692-8163
Or stop by 8883 Town and Country Cir, Knoxville
Cargo Carrier Corporation

Hiring 5 OTR driver positions, home most weekends, must be at least 24, clean MVR and 2 years experience
Call Avery at 423-526-2415 or Cheryl at 423-526-2412
511 Old Highway 33 New Tazwell, TN
Native Design

Hiring landscaping, maintenance
Basically any position
Mowing grass, irrigation maintenance
12 jobs to fill
Call Daniel at 865-803-1126
Resource Manufacturing

60 positions to fill
Primarily looking for workers for a company at Forks of the River
Job recruiter – David
Call him directly at 865-253-5464
Locations include Middlebrook Pike, Maryville, Clinton
Mountain Brook Village – assisted living

Looking for a CNA for night shift and a floater for night shift during breaks
Across from Belk Shopping Center in Sevierville
Call Abigail at 865-428-2445
Sertoma Center

Looking for caregivers
Working with people with intellectual disabilities
Several positions open
Location on 5th Avenue
865-524-5555
Collision Center Inc.

Looking for a body tech
Off of Lovell Rd.
Call Darian at 865-288-7919
Valley Apparel

Looking to fill several positions
865-577-2923
2323 West Blount Ave. in Knoxville
Fort Sanders Medical

Food Service
865-331-1177
Job fair Tuesday 9:30 a.m. – 3:00 p.m.
Blount Memorial Hospital

Looking for in-patient and outpatient therapists and nurses
Call 865-981-2300 and ask for supervisor
Gouffon Moving & Storage

Hiring drivers & movers
In-person interviews
865-584-8545
Breakthrough of Knoxville

Call 865-247-0065 for details
Rural King

Located in Halls
Jobs available – a full time position available for a Tool & Hardware Department Specialist and part-time jobs for cashiers and loaders and temporary positions for cashiers and loaders
Dollar General

Location: 600 Oak Ridge Turnpike
Hiring sales associates
To apply, go to dollargeneral.com then click "careers" and then enter store number which is #4363. Then call 865-272-2258 and ask for Melissa
RHA Health Services

Working with people with intellectual disabilities
865-769-7491 or go to rhajobs.com
Integral Senior Living

Couple of communities in Knoxville and are in need of caregivers
Also need people who can provide childcare for workers
Call Ellen at 615-438-3044
Randstad

Hiring for Denso
Swing shifts open right now start out at $12.50/hour
Express Employment Professionals

40 jobs in Anderson County
To apply call 865-498-0098
Staffing for 3 different companies

No experience necessary, just need to be 18 years old
Village Behavioral Health
Behavioral Residential Health facility for teenagers in Louisville, TN
Looking to hire technicians

Qualifications: High School Diploma
Multiple shifts available
Call 865-738-9624 to apply
Sneadville Trim & Upholstery

Positions available
423-300-9179
Knox County Sheriff's Office
Always Caring Homecare

25 caregiver positions available for immediate hire
Go to alwayscaring.com to apply
Orientation every day this week, so you can start working ASAP.
Address: 404 Ebenezer Rd. near Double Dogs
Independent Opportunities Inc.

Job openings
Assist people with intellectual and physical disabilities
Call Tiera at 865-932-6595
S. Army

Hiring for the Army and Army Reserve
Go to USArmyKnoxEast (Facebook)
Sunrise Community of Tennessee, Knoxville

To apply, call 865-687-2977 or go to Indeed.com
Help people with intellectual disabilities
1st, 2nd, and 3rd shifts available
Must have HS Diploma, driver's license and pass background check/drug screen
Norris Academy

To apply, call 865-494-5554 or go to www.Indeed.com and look for NORRIS ACADEMY
Help children with intellectual disabilities
1st, 2nd, and 3rdshifts available –Residential Counselor
Must have HS Diploma, driver's license and pass background check/drug screen
www.sequelemployment.com
Other positions available Therapist, Maintenance, Registered Nurses(PRN)
Totally Quality Logistics

Entry Level sales position
Call Shawn Opp
865-317-9772
East Tennessee Personal Care Services, an Amedisys Company

To apply, call 865-692-2200 or come by 9125 Cross Park Drive, Suite 100, Knoxville, any time Monday-Friday between 9am-3pm
Assist clients with their personal care needs such as dressing, personal grooming, meal preparation, transportation/errands, light housekeeping and laundry, companion care
Flexible shifts available
Must have valid driver's license or state-issued ID, must be able to pass a background check, must have reliable transportation
Pilot, Raccoon Valley Exit Location, Exit 117
Smoky Mountain Children's Home
First Horizon Bank

Nearly 20 Full time positions in call center
Full Benefits, openings in branches
Apply at firsthorizon.com
At Home Healthcare

Looking for Caregivers and CNA's
Interact directly with patients and help maintain quality of life
Must pass employee screening regimen
Call Lisa to apply 865-247-5645 or athomehealthtn.com
Landscape Workshop

Has 15 positions open
No experience necessary
Must be 19 or older, able to work Full Time, perform physically demanding work outdoors, professional appearance, well mannered, excellent communication skills and pass background check
Apply by email: hr@landscapeworkshop.com
Sitel Group

Sitel Knoxville to hire over 250 Work from Home positions in global customer experience
Positions offer career development, benefits and brief on-site training
Apply at sitel.com
Multi-Color Global Label Solutions

Lots of current job openings
Apply HERE
Care Around the Block
Seeking Care Partners in Knoxville & Vonore
Apply HERE