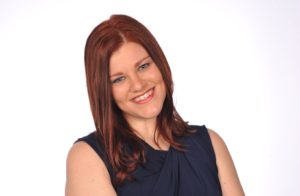 Becca James
A Texan in Tennessee! I love pretty much all types of music, but since you don't want to hear me sing, I pursued the next best thing – playing the hits on your radio.
I believe you should get out of your comfort zone every so often, so I've participated in Star 102.1's Dancing With the Knoxville Stars, went 'Over The Edge' and repelled down the 12-story Langley Building for Restoration House, climbed to the very top of Chimney Tops, swam with sharks (not on purpose), and joined the Pigeon River swimming club (by falling overboard while white water rafting).
I'm willing to try (almost) anything once! In addition to music, I love movies and TV and reading and sports and food and theater and art and pop culture and shopping and animals and rainbows and butterflies, AND you get the point! I also use exclamation points too much!
I'm proud to work with the YWCA Knoxville & The Tennessee Valley as a member of their Domestic Violence Awareness Month committee (since 2014). I encourage all women to learn self-defense (I took 4 years of Krav Maga). I am pro-LGBTQ rights, have a soft spot for animals, and support the arts!