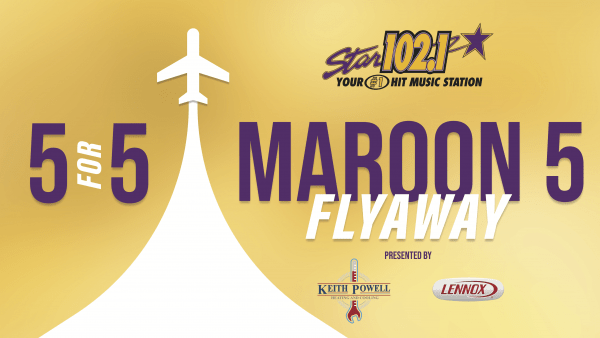 Star 102.1 and Keith Powell Heating and Cooling & Lennox have teamed together to send someone to see Maroon 5 LIVE at Fenway Park in Boston in June!
Starting Monday 2/3, listen 5 times a day: 9am, 11am, 1pm, 3pm and 5pm to play '5 for 5'….when you hear us tell you when to call, be caller 5, and we'll give you a category/question…for example, "Name 5 Mexican entrees". If you can name 5 Mexican entrees in 5 seconds, you'll be a finalist to win the Maroon 5 flyaway.
We'll be doing this contest for 3 weeks, and you can play once a week or until you win. At the end of the contest, we'll draw a Grand Prize winner from all the finalists to score the trip, which includes airfare, hotel and tickets to the show.